Here are all the things you'll need when travelling to Argentina by plane with a toddler or baby. We've covered best means of transportation, legal requirements, and tips and tricks to travel as a family to this wonderful country!
---
So you want to travel as a family; or maybe you want to take your toddler on vacation. A family reunion or a business trip perhaps? It's tricky knowing what are the requirements for each specific country, and Argentina is no exception to the rule.
As a parent, you can get anxious as to whether they'll get to enjoy their holidays when travelling with their children. The trip will automatically get more expensive; you can't just go anywhere you please at any time during the day, and there will be lots of places that might interest you that aren't exactly kid-friendly. Keeping me-time and baby-time in balance is tricky, especially in Argentina and Buenos Aires, with its bustling nightlife and endless possibilities for sightseeing.
Many questions can arise: what is the best age to take a child to Argentina? Where can I take my baby so that the whole family can enjoy the sights? What if I want to leave my baby with an au pair? Or even: what medical insurance will cover my baby's needs in case of an emergency? If you want to know the answers, keep on reading!
Why Pick Argentina to Travel With Your Kids?
Argentina is such a diverse country (from the landscapes to the activities, to the people you can find, even) that it's hard to know how to tell if it's right for a family vacation. But travelling to Argentina has many benefits apart from the usual fun times to come. For one, Argentina's primary language is Spanish, which means it's a widely-spoken tongue you might probably know at least a working amount of to get around. If you don't even know how to ask for basic directions, there are many high-quality Spanish schools in Argentina and Buenos Aires that can help sort that out. You can even take classes with native Spanish teachers, or prepare for your trip by taking online Spanish lessons beforehand.
Also, because of its cultural background and history, most Argentines speak at least a bit of English–even French, if you're lucky. They'll be able to understand you perfectly for the most part, if you need assistance while on the go or simply to communicate with those around you.
What's best is that Argentina is known for its friendliness and openness on many fronts, like LGBTQ+ rights, friend culture, or just for spending a night out: people are just glad to help out; don't be afraid to ask questions. On public transportation, you also have help desks, so keep an eye out for that.
Another good thing about Argentina's the amount of kid-friendly spots and activities: two world-renowned zoos, ecological parks for a great day outdoors, parks on almost every street corner, and quiet neighborhoods that are all the same nearby the local hotspots. Regarding the 2020 COVID-19 pandemic (and onwards), Argentina has relatively few restrictions for travellers, although there is some testing involved to get into the country. For example, showing proof of vaccination is not mandatory.
Because of its location just below the Equator, Argentina's climate tends to be from good to great. Everyone knows children are finicky about the weather, especially smaller ones. We recommend travelling during the springtime or during the summer, when temperatures aren't especially hot nor especially cold–just right. We also don't recommend travelling to high altitudes.
Government Requirements for Travelling With Underage Children
What Documentation Will I Need?
According to the Government website, children under the age of 13 need special authorization to get into Argentina, in cases where they aren't accompanied by a parent or guardian. But you're probably going with; in that case, you'll need an ID that shows proof of the legal status of your relationship to the child or baby; a certification of residence. If you're divorced or only one of the child's parent is present, then you'll need to show an authorization signed by the other mother, father or guardian. Don't forget to have your child's passport be valid and up to date. In any and all cases, the child has to have their birth certificate shown by the parent to be able to get on the plane to Argentina.
At Which Point Will I Have to Show the Documents?
If the child is travelling with one parent only, you'll be required to show the documents to the Migrations officer or the Migrations staff. All the documentation we mentioned above has to be either an original or a certified copy.
You should also take into account that, as of 2021, the authorization to take a minor out of your country of origin and into Argentina will cost you around U$D 45 (due to Argentina's high inflation rates, we don't believe this fare is going to be changing any time soon).
---
We won't be able to list specific requirements for each airline here; we suggest you check out your preferred airline's website–something like "more information about your flight". For example, you might need a medical certificate, and there can be changes as to the kid's ages and flying alone or with an 18+ guardian.
What About COVID-19?
Following CCD (Center for Disease Control) guidelines, there are different recommendations for vaccinated and non-vaccinated travellers. This is valid for the US, but rest assured there are recommendations for travellers from all over the world; make sure to check the specifics for your country before you travel. In the US, for instance, you are considered to be safe from catching COVID if you have been given an FDA-approved vaccine.
According to the US Embassy, "The Argentine Government announced that effective November 1, 2021, foreign tourists are permitted to enter, but must be fully vaccinated against COVID-19 at least 14 days before their arrival in Argentina". For children specifically, there is no proof of vaccination required if the affiliated parents are going to Argentina to visit a relative. The website states: "You must obtain prior authorization from the Argentine Consulate in the United States, so please contact the nearest Argentine Consulate based on your location. Apostilled marriage certificate, birth certificate, civil union certificate and photocopy of the Argentine ID of the individual to visit will be required".
When trying to get into Argentina, children underage who are not fully vaccinated will not have to quarantine. However, it's recommended by the Argentine government that children avoid attending mass social events or events in enclosed spaces.
On the other hand, the Argentine government requires that, in order to skip the 14-day quarantine, the child or minor has a sworn affidavit presented by his or her parents upon arrival. You can check out the form here (Spanish). Apart from the affidavit, parents need a negative PCR test from their country of origin 72 hours before boarding the flight, as well as a full vaccination scheme and COVID-19 insurance which you can ask about in your local embassy. We're providing information for both parents and infants because you sure don't want your child to roam free without you, right?
Will There Be Any Testing For My Child Getting Into Argentina?
The short answer is: there will be COVID-19 testing for children as of December 2021 upon arrival, even if you have provided the necessary documents to board the plane (see the requirements above!) For instance, the Buenos Aires Province Government states that, as of September 2021, an antigen test will be performed on all passengers.
Once On the Plane, How Can I Ask for Special Accommodations?
In most airlines, travelling with children under the age of two internationally ("lap infants") requires that a ticket be purchased, or pay some taxes or fees, or a percentage of the fair. This is different from domestic flights in the US, where travelling with a child under two is free.
What is more convenient is the fact that you can check strollers and car seats for free, and if a seat is unoccupied next to you, your child under two can take it… also for free. However, lap infants do not get free luggage discharge, unlike adults, except if you're carrying a diaper bag. Children above the age of two have to pay the airfare, no exceptions made.
So you got inside the plane. Some of the airlines provide a mini car seat for the flight if it is international, but not all of them do. It's smart to speak to the flight attendants beforehand, as soon as you're about to get on the plane, to see if they have any special seating available, and depending on if the flight is crowded or not.
Regarding food, almost all–or all–airlines provide food that is suitable for children over the age of two. When it comes to lap infants, there might be pureéd jars on board, but no guarantees. Of course, the menu varies from airline to airline. But when travelling to Argentina, make sure to specify food requirements along with your own (if you're vegan, kosher, vegetarian or have food-related allergies), to ensure there'll be no issues in that regard.
Child-Friendly Flight Companies
When travelling with your kids, you want to experience a hassle-free, stress-free environment inside the plane. Choosing the right airline can make all the difference as to the overall experience. The "family seating" option or feature depends on your boarding times as well, so be there on time! So, book early and book an assigned seat as it best suits your needs.
American Airlines
Although American Airlines does not offer pre-boarding, all the other features are present(such as a kids menu, entertainment, special seating arrangements, among others). From diaper changing stations to nursing accomodations and bassinets on lots of the airplane models, AA also allows car seats and strollers on board as carry-ons–or you can also choose to dispatch. You are only allowed 1 diaper bag per family. You can preorder a kids meal 24 hours before, or canned baby food.
United Airlines
United does their best to seat families together, depending on availability. Only one child is allowed per seat due to oxigen mask requirements, as there is only one per seat and only one per person assigned. The airline provides a child safety-approved seat, even for passengers who have purchased Basic Economy. Other services include on-flight bassinets, a snack box with specia food and beverages, and services for mothers who are breastfeeding.
British Airways
British Airways provide so many features and services for kids that it's almost too much. They even include a package of non-Internet entertainment (coloring books and crayons) for children ages 3 to 5. The most important factor is that they have family seating and priority flight boarding.
Kid-friendly TV and a special menu are also a plus. Although you should bring your own sterilized cans and bottles onboard (always taking into account restrictions for in-flight liquids), at British they do provide a kids menu you can preorder online up to 24 hours before the flight.
Best Transportation for Babies and Toddlers
Why Public Transportation Is a No-No–Save For the Subway
All of us porteños know public transportation is–unfortunately–not that reliable, and you do want one thing when travelling with your kids: reliability. Knowing what's going to happen and when will reduce the chance of unforeseen events and having to deal with last-minute cancellations, being late, or getting lost in the city.
In Argentina, bus times and subway times are not predictable at all. On the contrary, there are strikes, delays and general commotions on the regular, which means you rarely ever know when you're going to arrive, or, even worse, how long you'll have to stand at the bus stop with a baby. Of course, there are some ways to work around this. You can use transportation apps like Cómo Llegó and Cuándo SUBO that are downloadable on any phone, and which you can use to predict waiting times and see if there are any delays.
The subway and trains are more reliable, though, but do make sure to avoid rush hour, which in Argentina extends roughly from 5 PM to 7:30 PM, give or take half an hour. You're going to need the sube for subways, trains, buses and the premetro.
Starting 2021, babies are allowed to enter the buses through the door in the middle (that's the exit door) with their strollers, always with an adult present. This is much more convenient if you don't want to wait for other passengers to get on the bus. Once inside the bus, you have preferential seating available, as well as a special area in the middle of the bus meant for strollers (cochecitos).
Tip: In 2018, a law was passed in Argentina which requires all children under the age of ten to use chairs or boosters when travelling by car (and in the backseat, of course). If you are planning on renting a car and want to avoid trouble, take into account the type of child-retention system that is appropriate for your kid.
Also read: All About the SUBE card
Transportation Apps with Special Features
Using a little common sense, you might have guessed what the general recommendation is: spacey cars. There are ride-hailing apps that have the option to order extra-large cars, like Uber, that offers an XL vehicle–basically, a van or a deluxe car, and Cabify offers that as well, while other apps like DiDi and Beat do not.
All of these cars must have a security check put in place in Argentina. The apps themselves provide additional information regarding GPS localization, patent number, ID picture and the driver's full name. In short, you won't have to worry about safety concerns. And, although ride-hailing services for kids are becoming popular in the US, they haven't made their way to Argentina yet.
Note: For other legal travel requirements, please check the government website here.
Also read: Ridesharing Apps in Argentina
Bonus: Where Can I Change My Baby's Diapers?
Although bathrooms have a baby-changing station, some aircrafts like the 747 planes on Aerolíneas Argentinas (Argentina's local airline company) tend to be basic, to say the least. So, in this case, it'd be advisable to change your baby or toddler beforehand.
When you get to Argentina, can change your baby's diapers at a restaurant (even at McDonald's or other fast-food venues), or in shopping malls. Remember that there are no public restrooms in Argentina, as public restrooms are reserved exclusively for construction workers. Most women's bathrooms in busy areas carry a changing station where you can comfortably change diapers.
Safety and Insurance
Will I Have Medicare or Medicaid Coverage in Argentina?
If you're from the US, you must have already guessed that there's neither Medicare nor Medicaid coverage in Argentina, nor any other type of health insurance when going abroad (with or without children). You have to purchase insurance beforehand. However, if you have private health insurance in the US, your insurance may cover incidents that happen abroad. You should also check, depending on your situation, if you want to get single insurance for your child or baby to be covered by group insurance, but this does not only apply to Argentina.
You don't want to be constantly worrying, restricting or scolding your kid just so they don't get into an accident and you don't have the proper coverage in case anything happens. Parents know that kids are more accident-prone than adults. That's why getting insurance for your child, or getting their needs covered by one, is key beyond travelling to Argentina itself.
Although each insurance company for travel have their own set of guidelines, terms and exclusions, there are a few general rules that apply that are relevant to children:
Because of the COVID-19 pandemic, acquiring travel insurance is mandatory, but it wasn't mandatory before and it's bound to change in the long run;
Make sure your traveller's insurance covers not only COVID-19, but also that all terms apply to spouses and/or children;
Check if there are discounts for couples (this is different from group insurance); some do, some don't;
Check what activities are covered by your insurance (some activities might be, others might not–think theme park rides).
Argentina's Public Healthcare System
Let's say your child sprained his ankle. What can you do? If all else fails, or you haven't acquired travel insurance, Argentina's public healthcare system's got you covered. What does this mean, exactly? There will be top-of-the-line pediatricians and medical staff that specialize in pediatric medicine in general. For foreigners, because of inflation in Argentina and the subsequent economic crises, you won't have to spend big amounts of money on medication. One last thing: many drugs and medications are over-the-counter instead of prescription-only like in the US.
You can always check medication prices prior to your visit to the hospital on the Vademecum website: here (if you're confused as to the medication's commercial name you can always find it by the generic denomination, or even by laboratory name.) Of course, you'll need to bring along your child's ID and show both ID and travel insurance when admitting your child into the hospital, as well as provide a brief description of the ailment.
In Argentina, and especially in Buenos Aires, a major plus is that there are specialized and specific pediatric hospitals that are open 24 hours a day, every day. When calling from outside Argentina, don't forget to add (+54)9 before the number you dial in:
Location: Pichincha 1890, Buenos Aires City
Phone number: 4122-6000
Location: Gallo 1330, Buenos Aires City
Phone number: 4962-9247
Hospital General de Niños Pedro de Elizade
Location: Avenida Montes de Oca 40
Phone number: 4363-2100
---
Also read: Your Guide to the Argentine Healthcare System
---
Best Hotels and Accommodation for Babies
If you're hoping to go to a couple's resort… we'd hate to disappoint, but you'd have to look elsewhere. Most resorts are not meant for babies, in all truth; that's different from an all-inclusive hotel in Argentina, though. We don't recommend going to boutique hotels and pensiones, either.
In Argentina, because of the diverse geographical landscapes, there are many companies and family hotels that have nurseries, playgrounds, special activities for kids and a child menu, but many do not. You're more likely to find these types of accommodation in larger hotels than in a small cabin in the woods, of course, so you'll be limited, location-wise. You can always turn to booking sites to check Argentina-specific accommodations before your travels.
If you're concerned about safety (we know, it's Argentina after all) all of the hotels on this list offer 24-hour security. You don't have to sacrifice a good family stay for a good location.
Hotels in Buenos Aires City
Esplendor by Wyndham
Esplendor Hotel is in the Recoleta Area, near the Cementerio de la Recoleta and in a typical zone for deluxe hotels, such as the Hotel Alvear. But Esplendor is more low-profile. You won't want to steer away from the Northeast and towards Retiro or Barrio 31, but you'll be fine along Libertador, one of Buenos Aires' most beautiful avenues, packed with statues, landmarks, parks and museums. For all the features included in the hotel, you'll get a bang for your buck: family rooms, entertainment, breakfast; do not expect the greatest view in the world, however.
Address: Eduardo Schiaffino 2189
Novotel Hotel Buenos Aires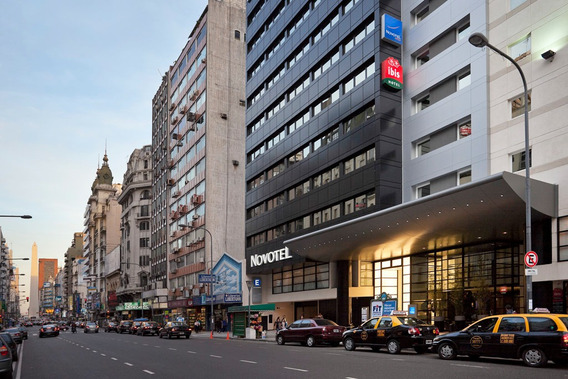 If you're looking to stay in the (not so quiet) city center, this one's for you. Kids of all ages are allowed in this case with a complimentary breakfast, but prices vary if your daughter or son is 16 or older. Which we guess won't be the case. Apart from that, you should know that you cannot add extra beds or bassinets.
Novotel has family-sized rooms, but also an outdoor pool and a gymnasium (note: as of 2020-21, closed due to COVID-19 restrictions). If you've rented a family van, the hotel offers a private parking lot. Most importantly, there is a kids' play room and a game room with access to board games, computers and a special kids menu.
Address: Avenida Corrientes 1334
Casa Bevant Hotel
Bevant might look like a romantic-getaway hotel in some of the pictures, but it sure does compete with an excellent, family-oriented hotel because of its features. The hotel does offer activities that are specifically for kids, but there are also some tours provided by the hotel at an additional cost which you can definitely take them to! You also have access to all types of games–including old-school board games, which you as a parent might appreciate–and you can hire an au pair at an additional cost.
Address: Vicente López 1827
Hotels, Cabins and Resorts Outside Buenos Aires
Hotel del Bosque, Pinamar
If you're a parent, you know that the beach is a must-see for kids, even if you have a local beach back at home. It's a family staple. Well, Hotel del Bosque is within walking distance (well, if you like walking, that is) of Playa Pinamar, and a bit further away from the famous Playa Ostende. There's a big outdoor pool at the Hotel del Bosque, which is a plus–but we doubt you'll be needing it!
You can order a bassinet at no extra cost and ask for another bed paying an additional fee per night. This hotel is all-ages, has family bedrooms and, apart from the spectacular views and country atmosphere, features a playroom, a boarding game room, even a ping-pong room! You can get an au pair at an additional cost as well. The ample, luminous bedrooms will make the family experience all the more satisfying.
Address: Avenida Bunge y Júpiter
Holiday Inn, Córdoba
This is truly a family hotel to travel with your kids, with a much more urban setting and style. The devil's in the details: if there's a pool, there's a shallow area you can take your baby or child to. If you're planning on sitting by a lake, the hotel will provide foldable chairs and parasols. The kids menu has an additional cost, but other than that, the Holiday Inn in Córdoba will make sure you're all set for your vacation.
There is a playground and a playroom (both indoors and outdoors), and all the entertainment options you can think of, from board games to DVDs–although we're guessing you brought your iPad with you.
Iguazú Grand Resort Spa and Casino, Misiones
The Cataratas del Iguazú is an Argentine classic for going with your kids: it has all the thrill of a Disney theme park ride and the calming sounds of nature. You can also walk along the bridges and go on a boat ride to the falls for a family adventure.
This is a deluxe hotel–and I mean deluxe, a go-big-or-go-home type of thing. There are many areas to cover here, so we'll stick to the basics: an au pair service at an additional cost (if going to the casino is your thing); ping-pong, playrooms, playgrounds and special activities for children at no additional cost; a kid-friendly pool and, lastly, ample rooms for running around.
Address: Route 12 Km 1640
Useful Websites and Phone Numbers:
911: For emergencies, dial 911 on any phone
107: For ambulance requests and medical emergencies, dial 107 on any phone
US Embassy in Argentina: Avenida Colombia 4300
Website: https://ar.usembassy.gov/es/
Phone: 5777-4533
Migraciones (Migrations) website: https://www.argentina.gob.ar/interior/migraciones
Phone: 4317-0200
App CUIDAR download: https://www.argentina.gob.ar/jefatura/innovacion-publica/acciones-coronavirus/aplicacion-y-tableros-de-gestion
---
Also read: Checklist for Travelling to Buenos Aires | What to Pack