Table of Contents
Although mate is the official national drink of Argentina, coffee definitely plays an important role in Argentinean culture.
Everything you need to know about argentinian culture here: https://vamospanish.com/discover/category/lifestyle/
Buenos Aires does not disappoint with café culture and atmosphere. The city government has recognized over 70 historic cafés, called Bares Notables, protected for their historical relevance and cultural value. Many of these antique bars served as the intellectual meeting place for prominent figures in literature, music, and art, including Jorge Luis Borges and Carlos Gardel, and have established themselves as culturally-significant spaces within the neighbourhood and the city. These atmospheric bars are impeccably conserved and offer fascinating insight on the city's rich past. Usually, these café bars are open every day for breakfast, lunch, and merienda (an afternoon snack). Some stay open for dinner, and most serve alcoholic beverages. I highly recommend the experience of visiting a bar notable in Buenos Aires. Sometimes the city organizes free music events at different notable bars throughout the city.
Looking to Learn Spanish? We've Got You Covered
The Best Intensive Spanish Classes in the World's Top Cities
However, if you haven't noticed already, despite Buenos Aires deep and enduring café culture, the coffee itself is different. Most bares notables and other traditional coffee vendors throughout the city serve coffee that is roasted with sugar, known as café torrado. Unlike coffee grounds that foreigners may be used to, sugar-roasted coffee is used to disguise the quality of beans and cut expense. This process oftentimes disrupts the natural aroma and flavour of the coffee bean. More often than not, old espresso machines are not adequately cleaned regularly, unfortunately ensuring a bitter cup of joe.
Best Specialty Coffee Shops in Buenos Aires
Calling all coffee snobs, fear not! There is a coffee revolution underway in Buenos Aires at the moment. A trendy coffee renaissance, if you will.
---
Top 10 New But Tradicional Coffee Places At Buenos Aires
Full City Coffee House // Thames 1535
Located in the trendy Palermo Soho, just like many of these new coffee meccas, Full City Coffee House was founded by a Colombian-English couple who saw the need for a jolt of Colombia's finest beans in the Buenos Aires coffee scene. These coffee enthusiasts thus fashioned a place for an excellent and strong cup of coffee to enjoy in a relaxed atmosphere.
Full City sports a classic and cozy coffee shop environment with plenty of space to zone out or plugin, including an upstairs loft area, outside seating, and a spacious and new outdoor patio area. They also sell their coffee beans, and they even offer coffee workshops and barista classes.
Lattente // Thames 1891, Costa Rica 4568
Found on a shady and cool corner of Thames in Palermo Soho, Lattente is one of the original modern coffee pioneers in Buenos Aires and has played a huge role in revitalizing the city's coffee scene. Owned by a team of certified barista experts, Lattente serves the best-rated espresso in the capital, and they take their responsibility in caffeinating the capital very seriously. They have two locations, the outpost on Thames and the other is located inside the Libería del Fondo in Plaza Armenia. Either way, both locations promise an intense and heavily-aromatic cup of coffee.
Please note there is no WiFi in the Thames store, as the owners hope to cultivate an environment that emphasizes human interaction over workspace productivity.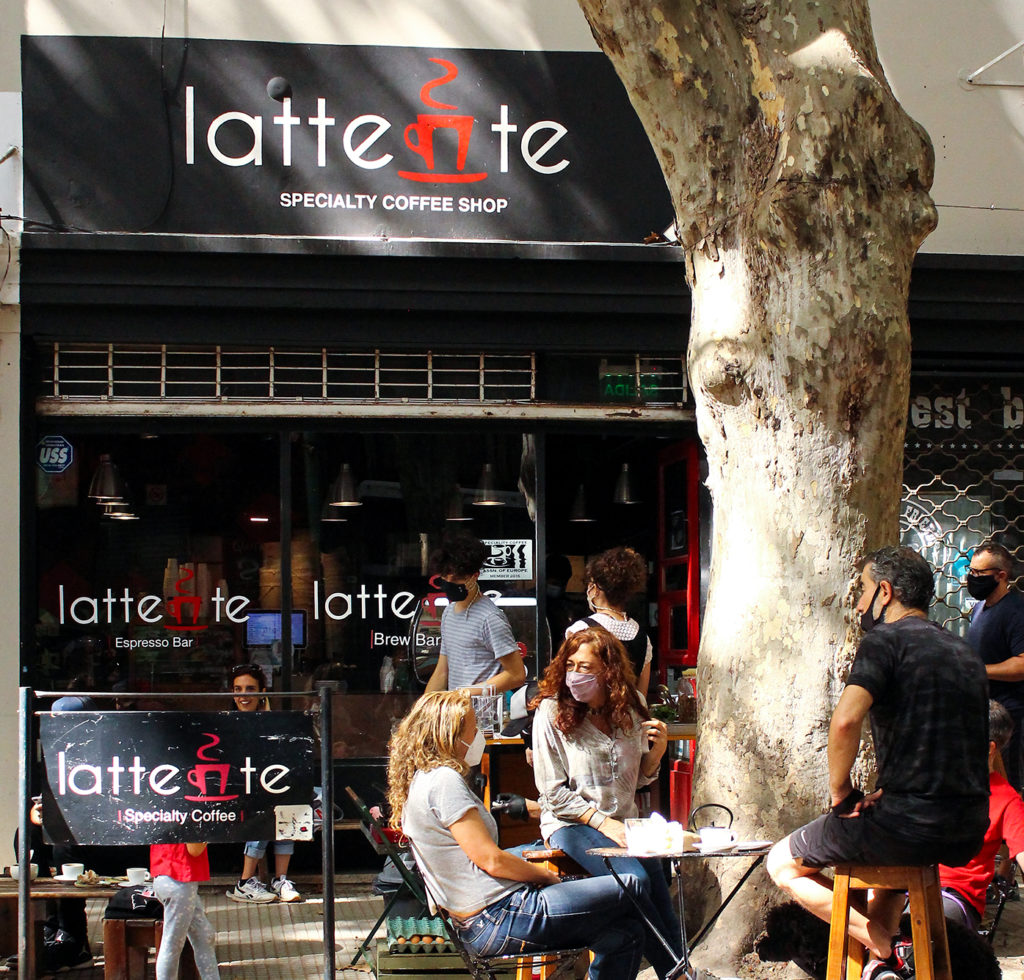 LAB Tostadores de Cafe// Humboldt 1542, Echeverría 1550
Step into this coffee shop and you will immediately feel like you have been transported to a state of the art laboratorial facility dedicated to roasting the perfect cup of joe. Sporting a modern vibe with a sleek interior decor and funky music, this café is fittingly situated in the stylish neighbourhood of Palermo Hollywood and is a great place to get some work or studying done.
The café is unique in its different cutting-edge techniques of brewing to choose from— including the Chemex, Aeropress, and Syphon methods. The baristas' expertise on the latest and best in the world of coffee-roasting is reflected in the quality of the coffee. For iced coffee enthusiasts, your prayers have been answered: their iced coffee infusion has been rated the best place for iced coffee in the city and is a refreshing complement to a hot and humid summer day. Also be sure to try their famous chocolate chip cookies! They have recently opened a second, slightly larger location in Belgrano as well.
Felix Felicis & Co// Serrano 1415
Harry Potter fans will surely geek out over the Harry-Potter themed café located just off Plaza Serrano. Named after the good luck potion in JK Rowling's series, the café flaunts a first-class espresso machine that churns out an incredible flat white (their specialty). For those who don't know, a flat white is an intense and flavorful cup that consists of 2 shots of espresso topped with foam. Although the small space can get busy, the café is great for laptop workers as the furniture come with built-in outlets made for long and intense work sessions.
Coffee Town// Inside Mercado de San Telmo
(Corner of Bolivar & Carlos Calvo) & Libertad 1260
Sundays are for the famous feria in San Telmo. After all, that walking around and browsing, be sure to head to the beautiful San Telmo market for a caffeinated pick me up. Located right in the middle of the beautiful market and surrounded by vegetable and antique stands, the little outpost is a great place to sip and people watch. Not to mention Coffee Town sells one of the most quality beans in the city and you can buy a bag to take home. Although it is one of the most expensive cups in the city, Coffee Town and their baristas certainly know their stuff as they recently opened the city's first coffee institute, Centro de Estudios del Café after travelling the world and learning all things coffee.
Coffee Town also has a brick and mortar outpost in Recoleta if you are looking for a caffeine break after walking around the spooky cemetery.
Also don't miss our blog about: https://vamospanish.com/discover/best-cafes-in-buenos-aires-argentina/
All Saints Cafe // Ciudad de la Paz 2300
If you find yourself in the lovely neighbourhood of Belgrano, north of Palermo, and you find yourself craving a coffee fix, I highly recommend checking out All Saints Café. The café in this posh residential area has quickly become a signature neighbourhood classic. The café caters to an yanki-style coffee shop environment, offering fast wifi and comfortable furniture, making it easy to spend hours here. The coffee is strong and delicious, and they offer a plethora of options in style, flavour, and brew methods. Be sure to stop by one of their free weekly coffee tastings!
The Shelter Coffee // Arroyo 940
Shelter Coffee definitely holds a special place in my heart as it is located just around the corner from my previous host family's house. Located in the fancy part of Retiro, near the world-famous avenue 9 de Julio, this café is a certified coffee cave escape. Breaking from the bright and modern vibe of other coffee shops on this list, Shelter Coffee subscribes to a dark and moody interior design with large, comfortable leather chairs and dark wooden accents. Apart from the coffee being spectacular, Shelter Coffee is a refuge if you find yourself in need of some internal introspection or artistic inspiration.
Stop in for an escape after exploring the bustling microcentro or after marveling at the beautiful architecture of the French embassy and Four Seasons found on the other side of 9 de Julio. On sunny days, be sure to sit outside to enjoy the shady, pedestrian-only street.
Negro Cueva de Cafe

// Suipacha 637 & Marcelo T Alvear 790 (Centro)
dedicated establishment passionate about educating its customers on coffee, doing so with patience and love. It has multiple locations in the heart of Buenos Aires, serving delightful coffees and other offerings. Reviews indicate that the place has received a rating of 4.5 out of 5, showcasing the high quality of its services and products. In addition to coffee, they also offer fast food options and Argentinean dishes. Visitors have praised the place, mentioning that the food is excellent, the coffee is delicious, and the staff is wonderful. As for the ambiance, the noise level is moderate, and while plug options might be limited, they offer group seating and various seating styles, including large tables and a standing bar/counter.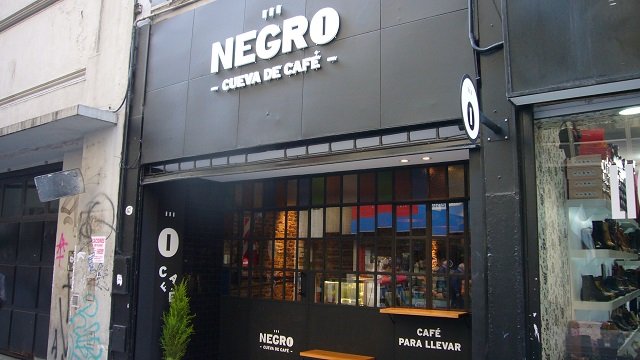 Cafe Registrado
// Costa Rica 5901 (Palermo Hollywood): Huge corner coffee shop
Establishment located in the vibrant Palermo neighborhood. The cafe is known for its vegetarian-friendly offerings and serves meals suitable for breakfast, lunch, and brunch. Visitors have described it as a funky little cafe with comfortable leather sofas, offering a wide range of food options. The coffee served is particularly praised, along with their tasty milkshakes. Cafe Registrado is not just a place to enjoy a cup of coffee; it's an experience. They take pride in selecting, roasting, preparing, and serving specialty coffee. Whether you're looking to enjoy the best coffee at home, in a bar, office, or restaurant, Cafe Registrado ensures a premium experience. The ambiance of the cafe is also laptop-friendly, making it a preferred spot for individuals seeking a work-friendly environment in Buenos Aires.
Vive Café
// Costa Rica 5722 (Palermo Hollywood)
Serene and welcoming spot, ideal for studying, chatting with friends, or simply relaxing. Located in the bustling Palermo Hollywood neighborhood, the cafe is renowned for its delightful homemade snacks that leave patrons wanting more. Their coffee is particularly noteworthy, drawing praise from many visitors. The cafe's tranquil ambiance makes it a perfect escape from the city's hustle and bustle. Patrons have described Vive Café as an "excellent coffee" spot with "wonderful service," labeling it a hidden gem in Palermo. The cafe offers not just a place to enjoy a cup of coffee but also an environment where one can take a quiet moment to appreciate the surrounding area.
---
In the heart of Buenos Aires, a city pulsating with life and culture, coffee stands as a timeless emblem of connection and tradition. From the historic cafes echoing tales of bygone eras to the modern specialty coffee shops innovating with every brew, Buenos Aires offers a coffee journey like no other. As we've journeyed through the city's coffee landscape in this blog, it's evident that each cup tells a story, each cafe holds a memory, and every sip is an invitation to explore deeper. Whether you're a seasoned coffee aficionado or a curious traveler, Buenos Aires promises a coffee experience that lingers long after the last drop. So, the next time you find yourself wandering the vibrant streets of this city, let the aroma of freshly brewed coffee guide you, and immerse yourself in the rich tapestry of Buenos Aires' coffee culture.
Summary
Article Name
Ultimate Guide to Find the Best Coffee in Buenos Aires Argentina
Description
Mate is the official drink of Argentina but coffee definitely plays an important role. Spend a Sunday cuddling with a book in a cozy Coffee Shop in Buenos Aires
Author
Publisher Name
Publisher Logo